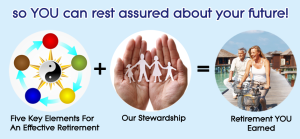 Your source for financial literacy
Retirement planning basics – Our retirement research center is designed to be useful and educational for you.  If you are looking for something or some information we don't have, let us know and we'll address it.  When you make a request we will make the effort to add the content.
Retirement Planning Basics
No matter how much planning you think you have done, there might be something you have missed.  Getting back to basics and having that solid foundation is very important.  Our exclusive Five Key Elements to an Effective Retirement is that foundation.  Our vision is to assist our client families to thrive with grace and ease.
 Financial Planning
We use our years of solving computer or software puzzles to create comprehensive financial planning solutions.  As a financial planner, Onesta Wealth Management takes pride in serving people to the highest standard, the fiduciary standard.  Would you like a fee only financial planner working for you?
We have a holistic, comprehensive, planning process.  We call this the "Five Key Element Planning Process".  We believe each element to be as a spoke on a wheel.  If any spoke is weak the wheel could fail.
Outliving your money?
Outliving your money is a very real concern as you plan for retirement in today's economy. Couple this with the fact that people are living longer. There is a very real chance that your life savings may not last throughout your retirement. Now is the best time to address that concern. Now is the best time to possibly guarantee that your income lasts throughout your retirement years. Sadly, many people haven't created a plan to evaluate their income during their retirement. Retirement planning basics – a failure to plan is a plan to fail.  You have an opportunity to address any issues you are facing.
Money!  This one word can cause people such discomfort.  Some people view money as a taboo subject.  We help reduce or even remove the taboo.
We specialize – annuity research center
We have found that some people see money and finances as scary & uncomfortable.  Complex problem? We create simplified solutions that we can all understand. We keep our clients informed.  Informed on how changes in the financial environment could affect them.
We have two websites that help understand annuities – http://whyihatevariableannuities.com and http://ixrayannuities.com