Our Process
We start with getting to know each other, after all this is the most important part.  From here we discuss what your goals are and begin looking for gaps in your plan.  During this process we'll educate you about how we work, what systems we use and demonstrate how we help close gaps.
Enjoy these great videos that help clarify why we are different.
 When we meet with people, there is always a question in the background… "What's this going to cost me?"
How we start to address this is, is we guarantee we will expose an issue you did not know about your current situation.  See the guarantee below.
Pricing – second opinion service?
Well, the cost to the client varies. We have a couple of different ways we support clients and prospects.  We have an investment audit, a Social Security analysis and a Retirement Income Plan.
The fee is based on the expected work.  In our experience this correlates to the amount assets we will be planning with.  The minimum fee is $3500.  The ideal client will have $750,000 of assets to be managed or planned for.  We require a 50% deposit to start the process.  If a family needs a living trust or their legal / estate documents reviewed the fee will be higher.  We don't practice law, so we have lawyers who do this work.
A common response to our planning fees is something like, "I have not paid for this before…" or,  "my Broker…"  Our only response to these considerations is, "there must be some reason for that, I wonder what that reason is…"  We know some "advisors" are prohibited from charging for their time, they are only able to be paid by commissions.  We are "fee based" and take pride in all this brings, namely transparency.  Our clients never wonder how we are compensated.  Our company, Onesta Wealth Management, LLC., is a fee only Registered Investment Advisor.
The Investment Audit is the starting point, typically
The Investment Audit is often needed to understand what issues exist with their current investments.  Sadly, many issues are hidden from people's view.  This first step exposes the issues such as beneficiary issues, investment portfolio issues, investment return issues and very sadly that people may well run out of money before they expect.
NOTE: in some instances there is no need to generate this report.  For example, people know they want to work with us and we skip this report.
Social Security analysis
Social Security analysis is evaluating how to maximize lifetime income with Social Security.  For individuals and couples.  This is a report that we charge $395 for this analysis and is included in our retirement income planning.
We also are confident enough in our services that if we feel you should move forward with the investment audit – we will make you a guarantee.  If we are unable to expose something that you did not know about we will refund your fee.
A Retirement Income Report
This the is the crown jewel of all our planning and reports.  We start with a rough draft.  From there we work with you to integrate what can be considered about your financial future.  Your 401k contributions, current assets, current expense and certain future milestone expense.  We go through this process several times until we both agree we have done as much as we can.  From there, you are free to implement on your own or work with our firm to implement the plan.
See our guarantee below.
Pricing – Second Opinion Service
We represent a select group of families, for whom we can have a major beneficial impact.  We enter into only a handful of new relationships per year, most via personal introductions from our existing clients and associates.  We are offering to you a service that we provide to our best clients & the people they care most about.  In my career, I have never seen so much money in motion; so many people wanting someone to "check under the hood" to make sure they are on the right path. People are very unsure of what to do now.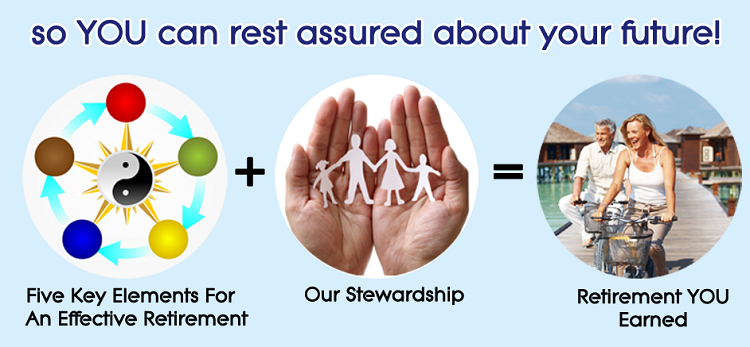 To help the people you care about make informed decisions, we offer our second-opinion service.  We'll take them through our exclusive Five Key Element Process℠. Our Five Key Element Process is, by design, compassionate and respectful. Our process also fulfills on our promise to deliver, Trust, Respect, Understanding and Love.  We'll help expose and examine any of the gaps in your current plan that need to be filled.  My mother worked in the health services field and told me, "…a second opinion simply makes sense…"
ONE OF THREE THINGS WILL HAPPEN:
We find out that you are in good shape and advise you to stay where you are, or,
We find out that you could better your situation. If we are not a fit for your particular situation, we'll be happy to point you in the right direction to a financial advisor who can work with you more effectively, or,
We find gaps in your current plan and feel we could provide a significant advantage in helping you reach your goals.  We would then explore the idea of working together with you.
If you are truly interested in what we can accomplish, give us a call.  When you call, ask about our money back guarantee.
Guarantee
Pretty simple.  We would like the opportunity to work with you, even if simply to create a retirement income plan or investment audit.  We have such a high confidence in what we do that we offer to refund your planning fee if we fail to create a plan that fulfills your needs.
We start the process with a deposit of 50% of the planning fee. If our plan meets your needs and you choose to work with us we will waive the remaining fee.  You are free to pay the balance and  then take the plan and implement on your own or stay where you are.