[epurl-firstname], thank you for taking the time to stop by.  Please take 31 seconds and watch the video.  After that, you can choose what, if anything, is next for us.
Whether we are able to work together or not – I want to make sure your time is well spent.  I have e-booklets and other resources that would be of interest and useful to you.  Items such as IRA Distribution planning and avoiding common mistakes.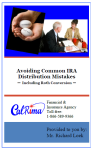 I would like to send you something for your time.  Please fill out the form to the right. Depending on your needs we can provide complementary analysis of investments, insurance products or even client specific Social Security Optimization reports.
Secondarily, If you are open to the idea we can meet virtually or for a cup of coffee here in the Campbell, California area.