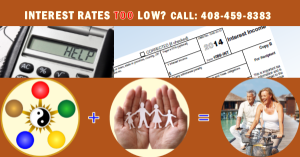 Interest rates are at an all time low! People are looking where they can get a better interest rates on savings.  We know not all opportunities fit everyone.  This one is very close though.  Consider calling our office – Monday through Thursday from 8:00AM – 5:00 PM Pacific time.  Our office number is 866-589-9366.
We welcome the opportunity to explain how these options work.  We can support amounts as small as $300 and north or $100,000 for opening balances.  If you fit in that range, consider picking up the phone and calling or filling out the interest form at the end of the page.
We have a few different options.  Each person we work with is evaluated for what, if anything, is best for them.  What I say is this, imagine walking into a doctor's office and saying you need a cast or splint for your arm.  Wouldn't you agree that the doctor should understand what caused the need for the splint? The root cause could be something that requires immediate attention and the splint is more of a bandage.
As of March 2015 (extended through April 2015) here is what we can offer:
| | | | | |
| --- | --- | --- | --- | --- |
| Contract | Current | Guarantee | Guaranteed | Minimum |
| Term | Interest | Minimum Interest | Period | Deposit |
| 1 Year | 1.65% | 1.00% | First Year | $300 |
| 3 Year | 2.40% | 1.00% | All 3 Years | $300 |
| 5 YR. | 3.00% | 2.00% | First 2 Yrs | $300 |
| 8 Year | 3.50% | 3.00% | First Yr Only | $300 |
The only way to know if this a possible fit for YOU is to connect with us.  No obligation, no commitment, no pressure – we promise.  Also, your information is not sold nor shared with anyone else.  All data is kept private with Calrima Financial &  Insurance Agency.
*Rates as of March, 2015; terms and conditions vary.  For complete information, call our office toll-free at 866-589-9366.
Terms, conditions, restrictions and rates vary.
[contact-form subject='Getting a better rate of return – safely'][contact-field label='Name' type='name' required='1'/][contact-field label='Email' type='email' required='1'/][contact-field label='Phone number' type='text' required='1'/][contact-field label='Questions or background' type='textarea'/][/contact-form]
There are products that are insurance company based and opportunities that are appropriate for IRA and non-IRA accounts.  We explain the various options depending on what fits your circumstances and needs.  These are not FDIC insured.  They are subject to the claims paying ability of the insurance company.
We look forward to helping you determine if this is a fit for your needs.
California Department of Insurance License 0F34289